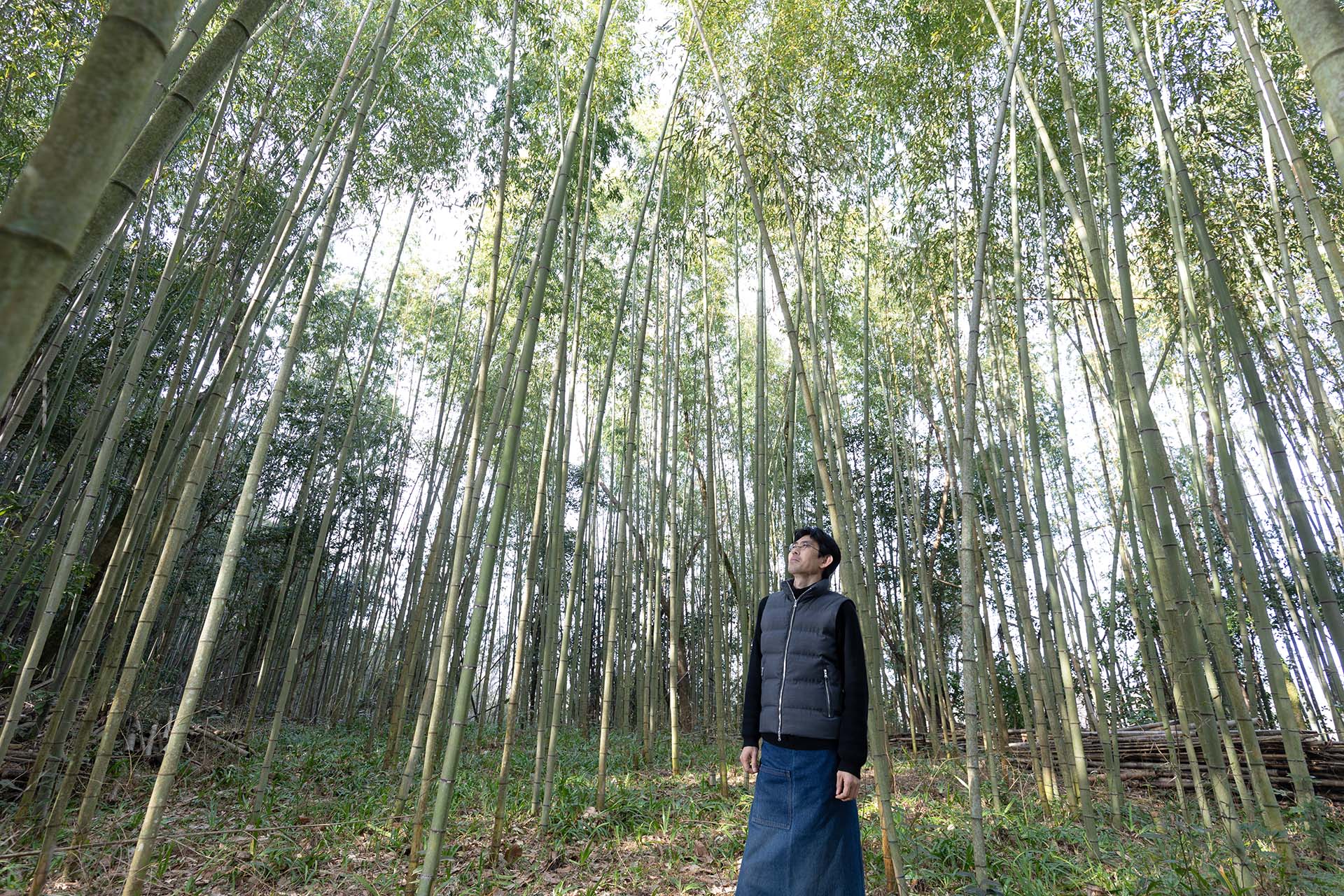 INTERVIEW
NAKATOMI HAJIME
中臣 一
NAKATOMI HAJIME
美しく、自由に。
Beautifully, freely.
竹の可能性を開いていく竹藝家 
A bamboo artist who unlocks the possibilities of bamboo.
竹のようにしなやかに、根強く。
Like bamboo, flexible and firm.
その竹林に足を踏み入れると、ざざっと風が鳴る。澄み渡った冬の空にまっすぐと高く伸びた竹が、スローモーションのようにゆっくりしなう。根はしっかり地の中に張っているから、少々揺れても静かに軸に戻り、清々しい佇まいを保つ。

まるで、竹藝家中臣一の在り方を彷彿させるかのように。
When you step foot into the bamboo forest, the wind whistles. On a perfectly clear winter's day, bamboo stands upright, long and tall, yielding gently as if in slow motion. Its roots are buried firmly in the ground, so even if it sways, it will quietly return to its original place, and maintain its elegant shape. It is very much reminiscent of Nakatomi's way of living.
大分県の奥豊後竹田市の小高い山の上にある岡城址。阿蘇山やくじゅう連山を望み、美しい石垣が残る城跡は、作曲家瀧廉太郎が少年時代を過ごした地としても知られている。
The ruins of Oka Castle are on top of a modest mountain in Oita prefecture's Okubungotaketa. These castle ruins, where beautiful stone walls remain, command a view of Mt. Aso and the Kuju mountains. The area is also known for being a place where the famous composer Taki Rentarou spent much of his youth.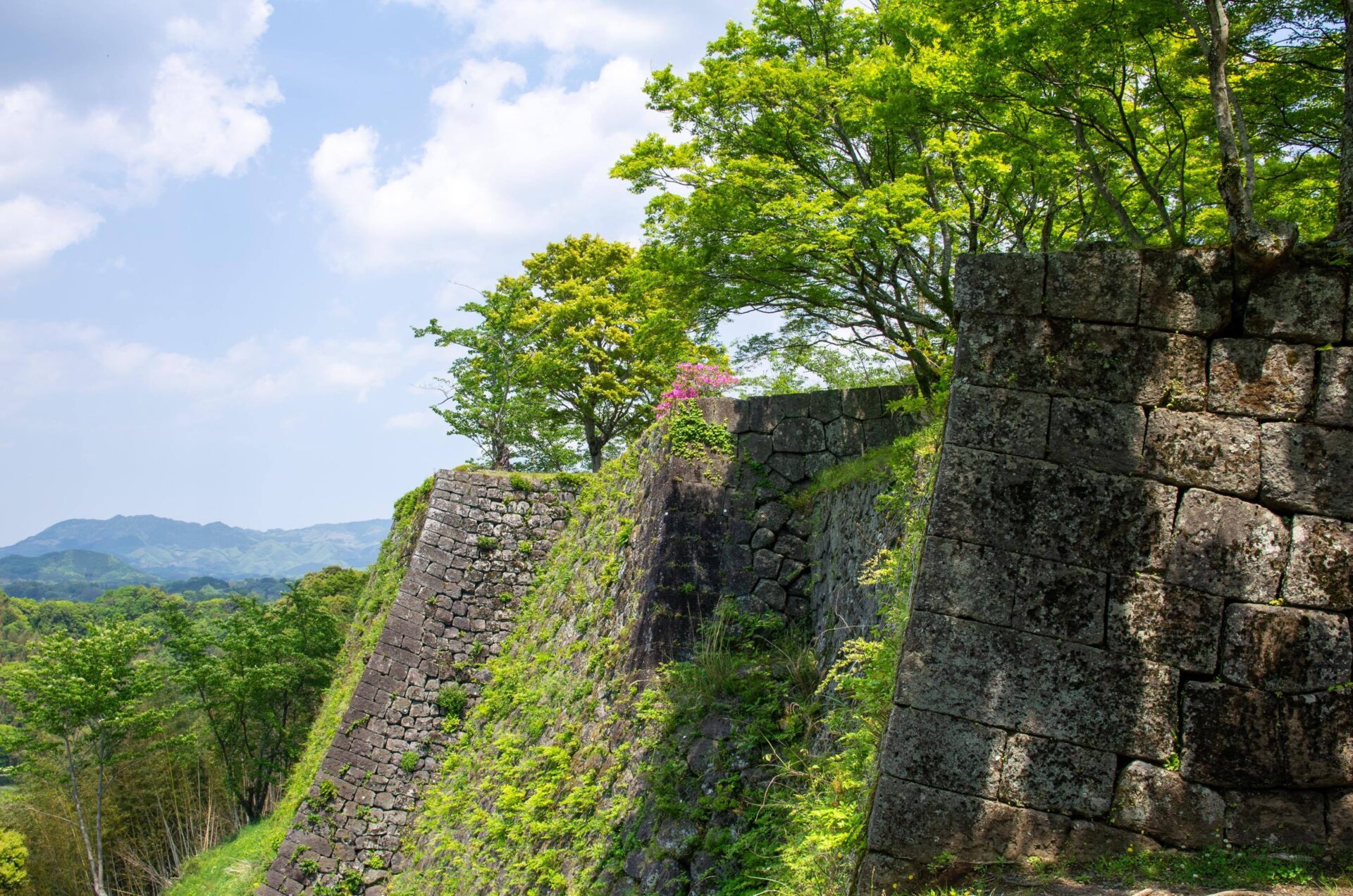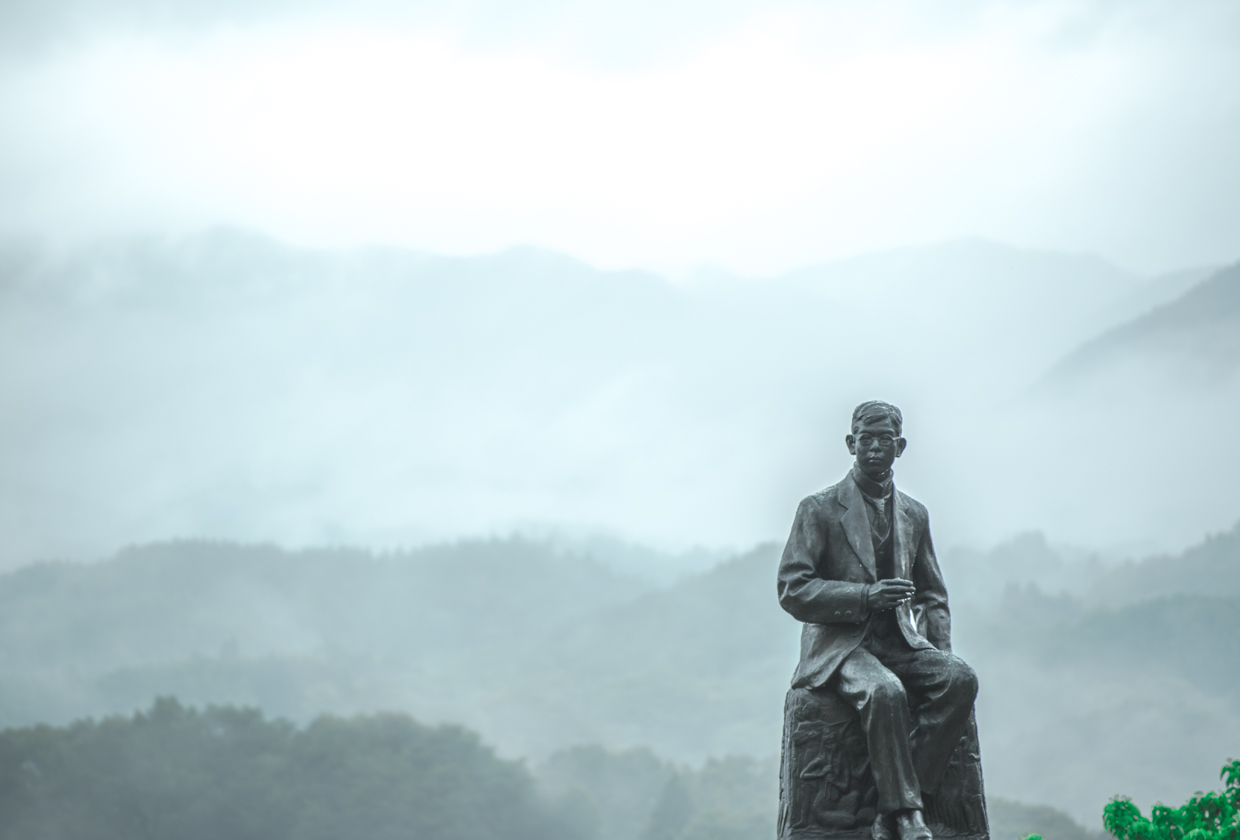 その岡城址を過ぎた奥にその竹林はある。中臣さんが竹田市に移住した頃から借り、育てている竹林だ。
The bamboo forest is found beyond these castle ruins. The forest has been borrowed and cared for by Nakatomi since the time that he moved to Taketa.
 大阪府出身で早稲田大学商学部を卒業した中臣さんが竹藝家として竹田市に住むまでには、やはりそれなりのストーリーがある。だけど本人から語られる話の経緯には、紆余曲折という印象はなく、その流れがあまりにも自然過ぎて、まるですべてが計算しつくされた道筋をただ淡々と進んできた。そんな軽やかな印象を抱くのだ。
Nakatomi, who is from Osaka, and graduated from Waseda University's business school, has a story to tell about his life before moving to Taketa as a bamboo artist. However, that is not to say it is one filled with twists and turns; rather, the flow of his life felt so natural, as if he was simply following a path that was completely pre-planed. At least, that is the gentle impression that one receives from his telling of the story.
そもそも「ものづくり」とは全く無縁だった中臣さんと竹を結び付けたのは早稲田大学時代のこと。大学の美術研究会に所属した際、たまたまおもしろそうだと思った陶芸に興味を持った。その時は陶芸家の先輩もいたことから陶芸の道を進もうとしたが、どうもしっくりこない。間口を広めて漆やガラスなどにも目を向け始めていた。なぜか伝統工藝に惹かれていたという。大学4年だったけれど、就活はすでに眼中になく、自分にしっくり合う「ものづくり」を探しもとめていた。
It was at Waseda University that Nakatomi, whose prior life bore absolutely no connection to craftsmanship, became connected to bamboo. After joining a university art club, he came to have an interest in ceramics in a quite random way. At that time, his Senior was a potter and he tried to follow the path of ceramics, but he didn't quite have the knack for it. He broadened the breadth of his artistic interest and he also tried his hand at lacquer work, as well as glass work. For reason's unknown, he was being drawn deeper into the world of traditional craft. Though he was in his final year of university and he was expected to start job hunting, he did no such thing. He resolved to search for opportunities for craftsmanship instead.
そして運命的とも言える出会いは、たまたま百貨店の美術画廊で開かれていた竹の作品展。人間国宝の竹藝家生野祥雲斎を父に持つ、生野徳三氏その人の個展だった。そこでじっくりと竹の作品に触れ、飾ってあった祥雲斎の作品の写真にインパクトを覚え、ほぼ同時期に竹職人の実演も見たことで「竹」を意識したという。その竹職人から別府に竹工芸の学校があることを教えてもらい、やがて別府に移り住むことになる。
Then, in a moment that could perhaps be called fate, he encountered an exhibition of bamboo works at a department store. It happened to be the solo exhibition of Tokuzo Shono, the son of Shonoshounsai, a revered bamboo artist. He had a powerful interaction with the bamboo pieces, and was moved by the pictures of Shounsai's work. Around the same period, he watched a demonstration by a bamboo craftsman, this caused him to become conscious of bamboo being a creative resource. It was this same craftsman who told Nakatomi that there was a bamboo craft college in Beppu. It was there to which he journeyed next.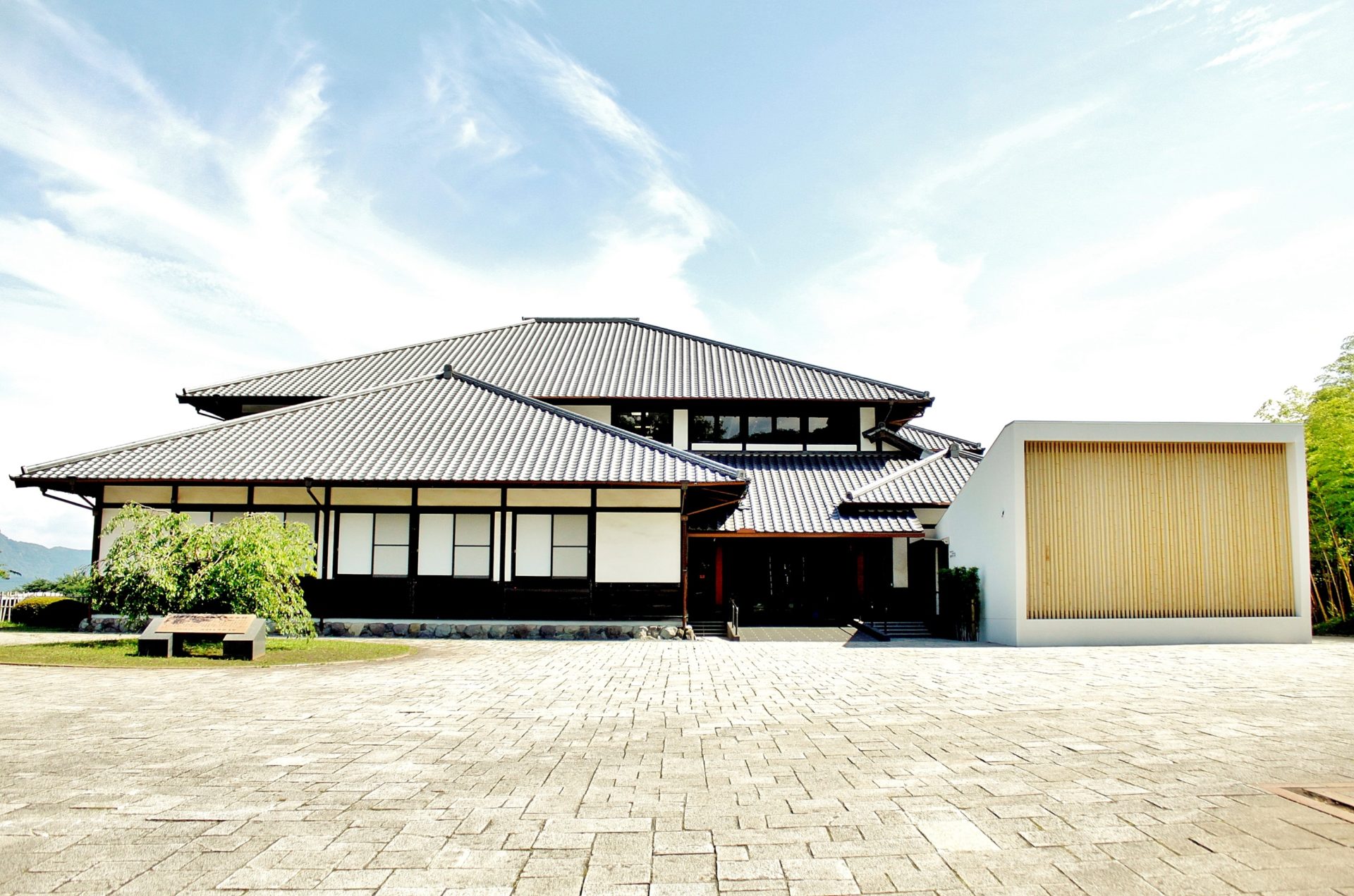 大分県立竹工芸訓練センターで2年間基礎を学んだ後、竹藝家の本田聖流氏に師事することになるのだけど、普通はそんなにトントン拍子にはいかない。竹の基礎を積んだからと言って、すぐに師が見つかるわけでも、ましてや仕事になるわけでもない。しかし、中臣さんは節目ごとに、手助けするように助言をする人や救い人が現れる。それを彼は'たまたま'と表現する。
After studying the basics of bamboo craft at The Oita Prefecture Bamboo Craft Training Centre for two years, he became the apprentice of Shoryu Honda. Normally, it is not such a smooth process upon graduation. It is unheard of to immediately find a bamboo master at whose side one can learn from, to say nothing of actually finding a job. What is more, at each crucial juncture, people appeared to give him the advice and assistance that he needed. Nakatomi describes this series of fortunate events as "happenstance".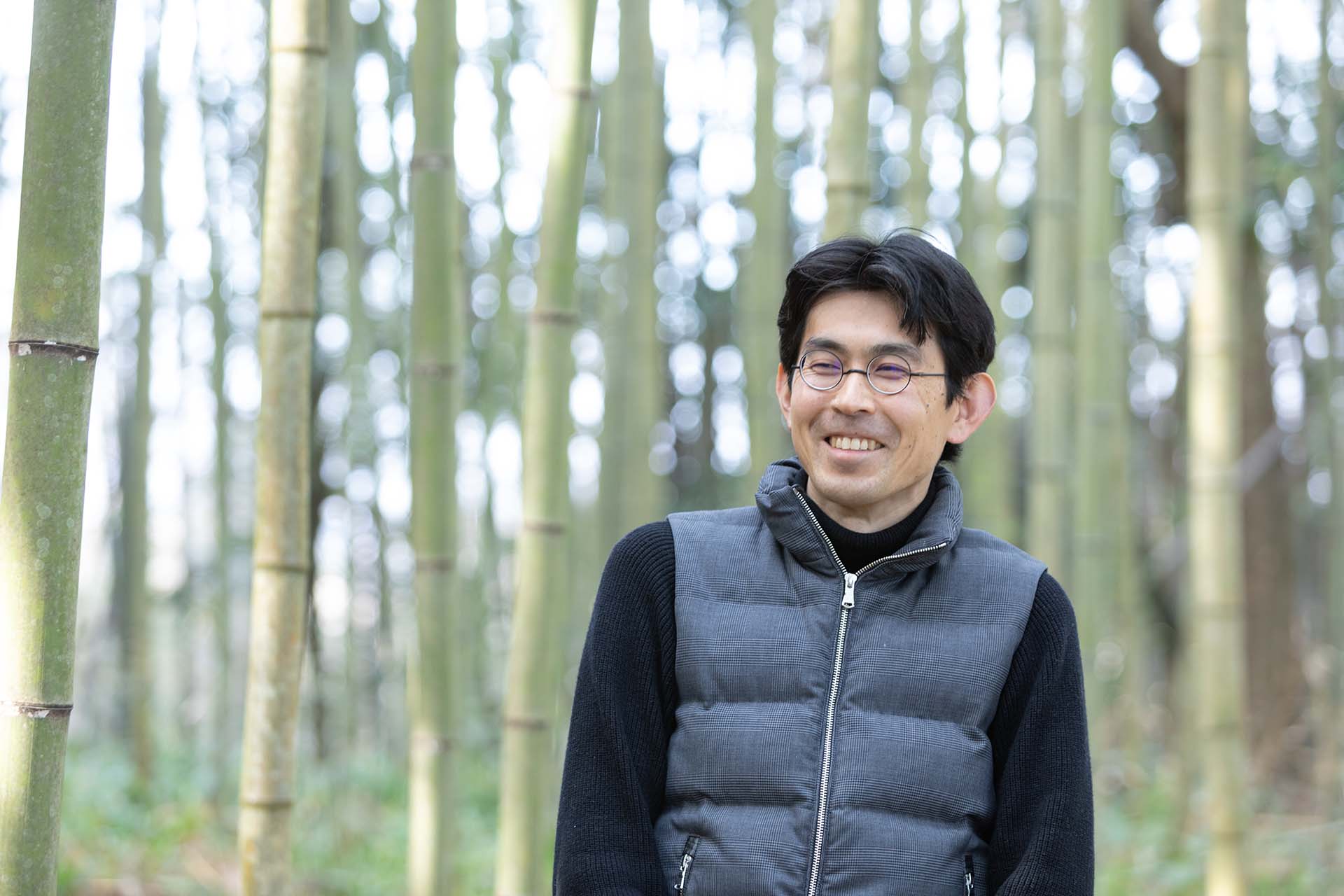 'たまたま'竹製品を扱う店の女主人が仕事を与えてくれたり、その女主人の紹介で'たまたま'知り合いになったお師匠さんからマンツーマンで煎茶道を教えられ茶の世界を知り、そのお店と付き合いのあった竹藝家が'たまたま'人を探していると聞く。'たまたま'は偶然ではない。中臣さん自身が持つ本質の力が引き寄せているとしか思えない。その引力は、自分の意識の奥から湧いてくる想いや、直観、感覚を疑うことなく、まっすぐに従うことだ。誰もが見過ごし、ないがしろにしてしまいそうな内なるサインを中臣さんは見逃さない。そこに気づくと誰がなんと言っても揺れず、流れるように自然に向かう。淡々とした穏やかさの奥に隠れた、核となる芯の強さを感じてしまう。
Through happenstance, he met a woman who owned a shop selling items made from bamboo, and she gave him a job. This same woman introduced him to a man who just so happened to be a tea master, who taught him the ways of the tea ceremony, and then, finally, Nakatomi heard by chance that a bamboo master with a connection to the shop was looking for an assistant. Happenstance is not pure coincidence. Rather, one cannot help but think that these moments were pulled to Nakatomi by his essential energy. Regarding this charm, it is the result of him forging straight ahead, without doubting the instincts, feelings and ideas that rise from within him. Nakatomi never overlooked or failed to pay heed to inner signs that others might ignore. When he is aware of those inner signs, he moves naturally ahead, unnerved by the words of others. Hidden inside is a flowing calm whose core strength you cannot help but feel.
「竹の仕事のいいところはすごくマイペースでいられる。自分が手を止めたら仕事が止まる。自由なんです。竹を選んだ自分の直観は正しかったと思いました。」
 迷うことなく直観に従ったことで、この後、自身の可能性をさらに開かせていくことになる。
"The best part about working with bamboo is the ability to live at your own pace. If my hands stop, so does my work. It is really liberating. I believe trusting my instincts to work with bamboo was the right choice."
Without hesitation and by following one's instincts, the potential of one's future will open up.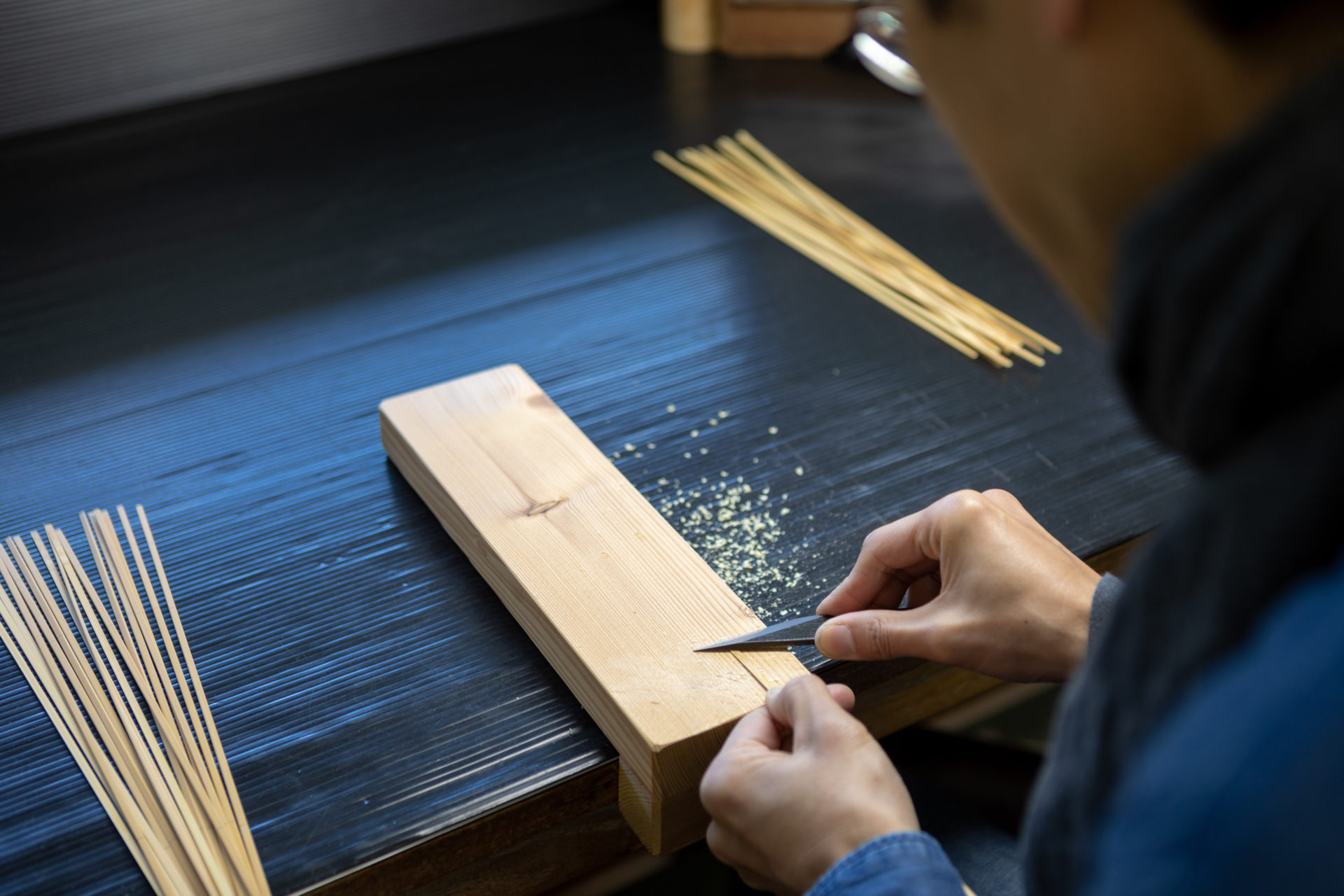 「竹らしくない。けれど竹でしかありえない」作品を創作
"It isn't typical of bamboo. But it is something that can only be made from bamboo." He creates his artworks like this.
本田氏に指導を受けて3年目の2005年に独立。伝統工芸が好きで入った世界だったが、独立後から伝統工芸という型から抜け始める。

「型にハマりたくなかったんですね。型に自分をフィットすることができなかった。まだ若かったんですね」と笑う。それは若さゆえの、「竹らしさ」を重んじる伝統への反発心からだったかもしれない。独立後、不安と怖れに揺れながらも、「竹らしくないもの」へのオブジェに挑戦する。初めて思うままに創作したオブジェ作品は、およそ竹とは思えない。用途がない純粋なオブジェとしての幾何学的な作品は、その新鮮さと技術の巧みさで、見るものを驚かす。自身の新たな扉を開き、竹の新しい可能性を見出し、素材さえも自由に解き放ったのだ。
After working under the guidance of Honda, he went independent in 2005. While he entered this world because he liked traditional crafts, he began to move away from traditional models.

"I didn't want to get stuck into a mold. I couldn't find models that really fit with me. Moreover, I was young at the time", he laughs. As he was young, he rebelled against the traditional uses of bamboo.

Whilst he felt trepidation and anxiety after going solo, he challenged himself to make atypical objects from bamboo. It was hard to believe that these first objects were made from bamboo. As they were geometrical artworks with no practical use, they were purely artistic creations made to stir the senses with novelty, from a deft hand. He had opened a new door inside himself, he had found new uses for bamboo, and released this raw material's potential.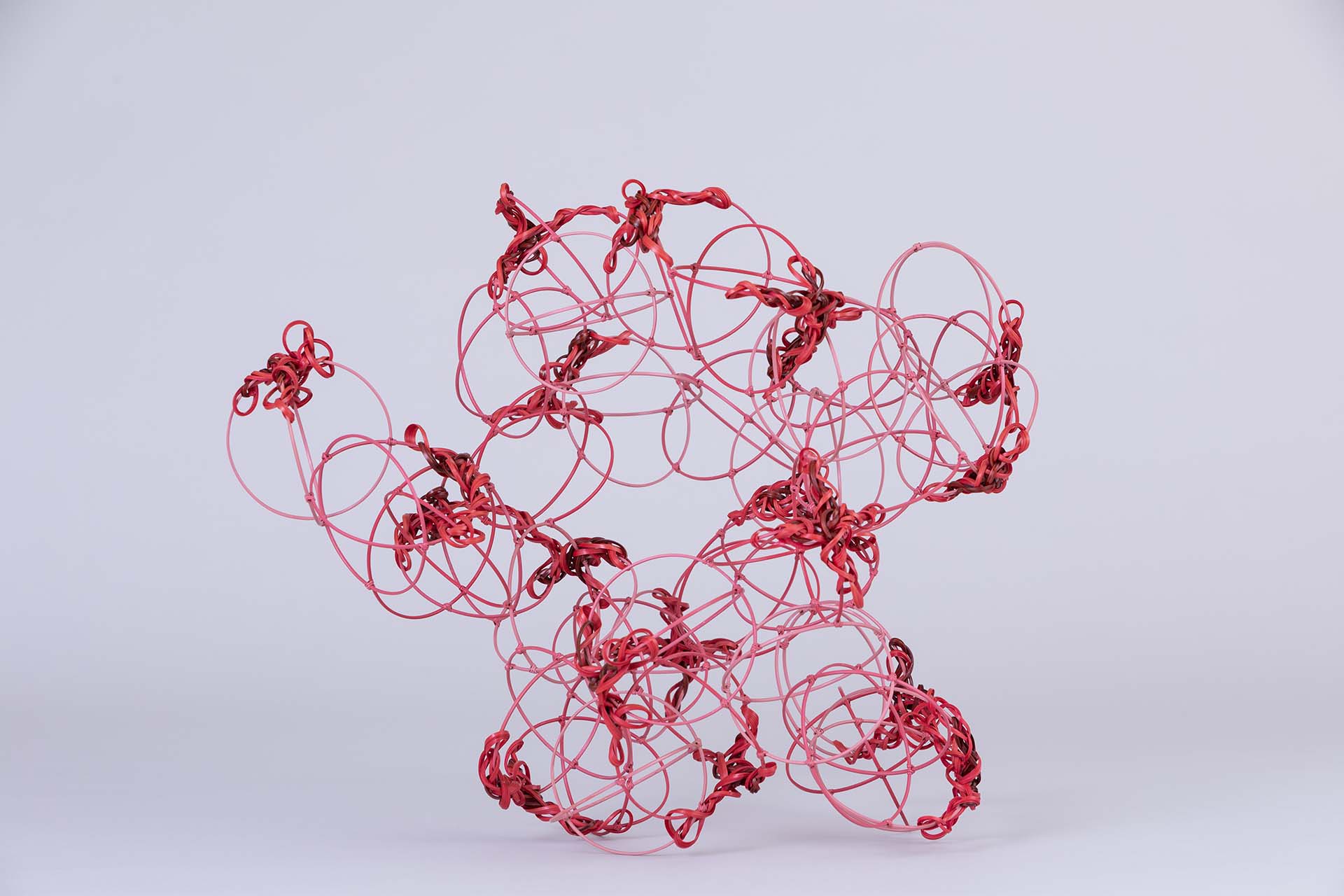 それ以来、「竹らしくない。けれど竹でしかありえない」ものを根底として創作。中臣一独自の世界を確立したオブジェは、他に類を見ない日本の竹作品として、世界の目に留まり始める。2006年のボストン美術館をはじめ、ニューヨーク、ロンドン、パリなど世界各地の美術館、ギャラリーで作品を発表。
From that time on, he took, "It isn't typical of bamboo. But it is something that can only be made from bamboo" as the foundation for his work. The unique world of objects that Nakatomi created began to catch the eyes of people from abroad as unparalleled examples of Japanese bamboo art. Starting with an exhibition in Boston in 2006, his works have been presented in New York, London, Paris, and other galleries across the four corners of the globe.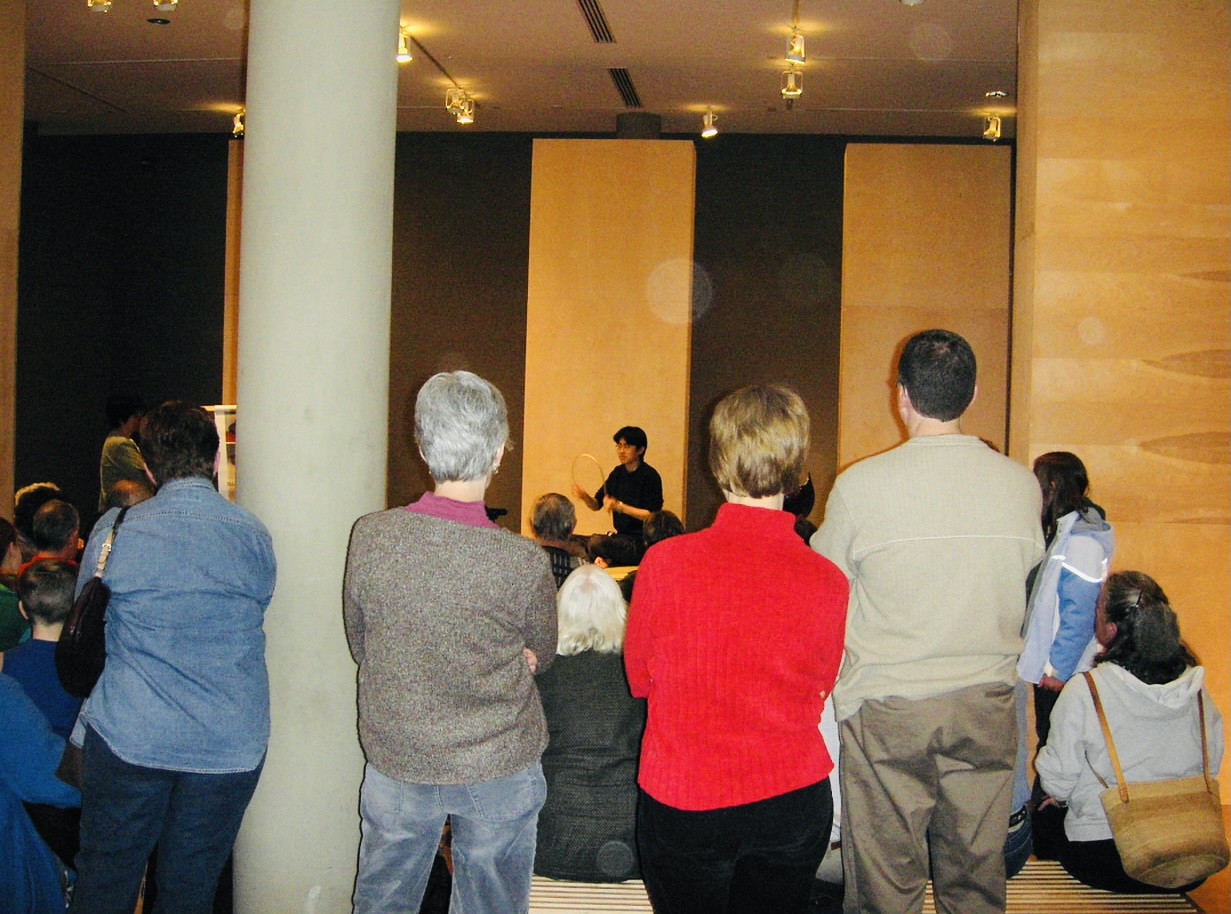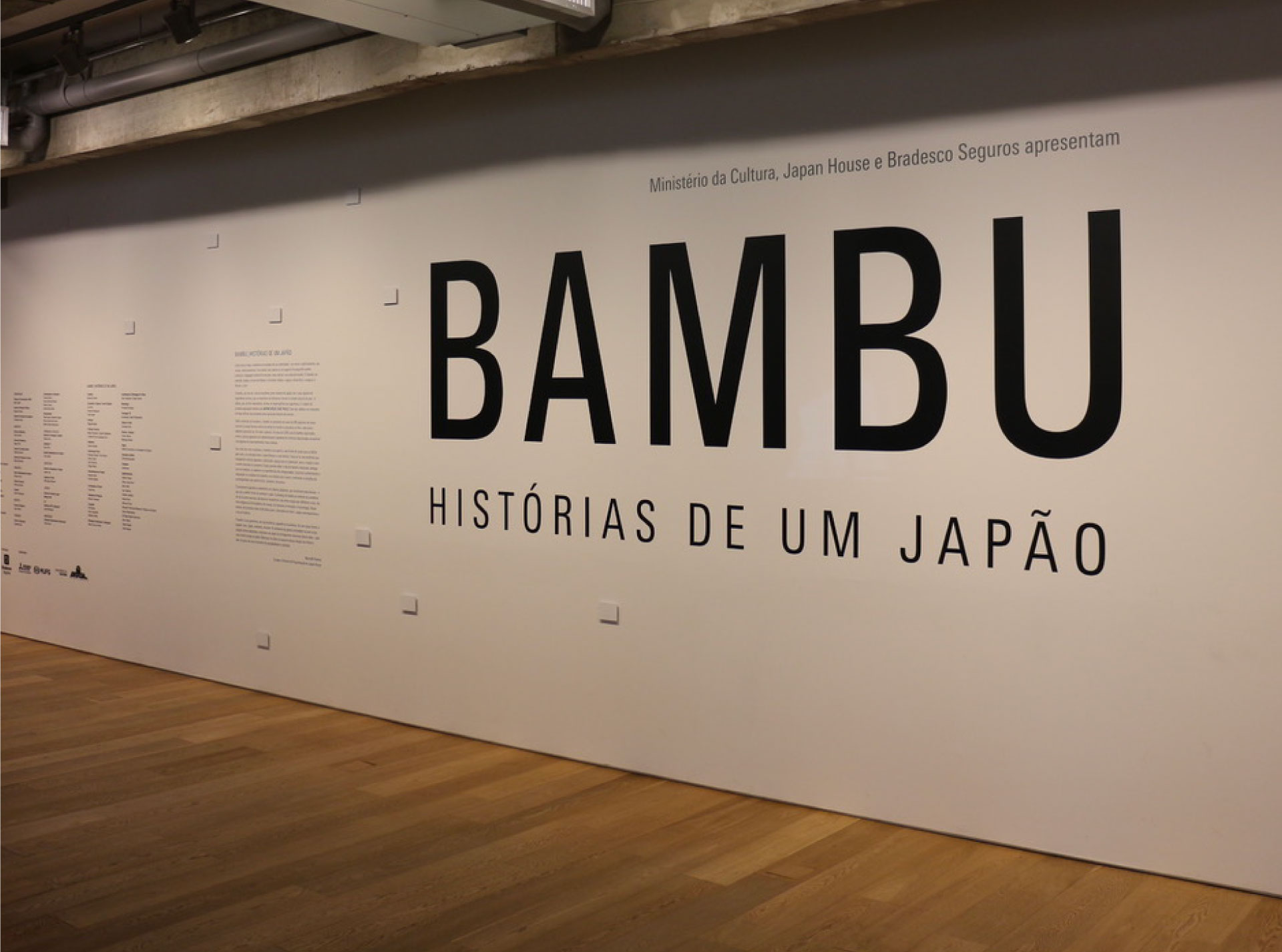 さらにリッツカールトン京都、リッツカールトン東京、福岡空港JALVIPラウンジ、最近ではANAインターコンチネンタル別府リゾート&スパのアートも手掛けている。2013年には、元サッカー日本代表中田英寿さんの日本文化再発見プロジェクト『REVALUE NIPPON PROJECT』に参加し、デザイナーの森田恭通さんとコラボしたバンブーシャンデリアは、圧倒的な美しさと繊細さで人々を魅了した。
In addition, his works have been displayed at The Ritz Carlton in Kyoto and Tokyo, Fukuoka Aiport JAL VIP Lounge, and more recently, he was commissioned by ANA International Resort and Spa Beppu. In 2013, Nakatomi participated in former soccer player Nakata Hidetoshi's Revalue Nippon Project, where he collaborated with the designer Morita Yasumichi. Together, they created a bamboo chandelier that charmed the audience with its overwhelming beauty and delicacy.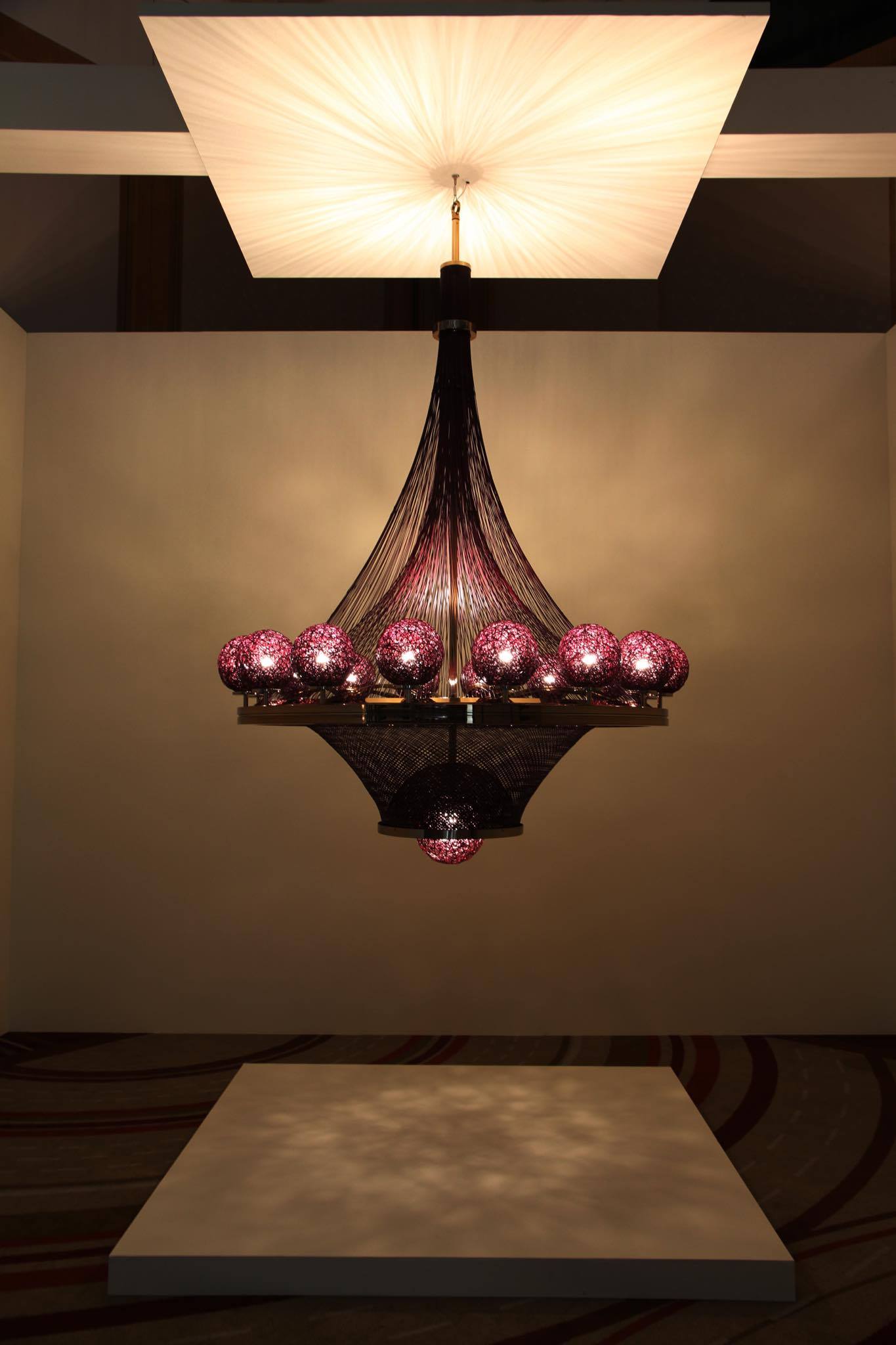 ゆっくりと流れる竹田の時間の中で
Nestled in Taketa, where time flows slowly
「田舎の時間はゆっくり流れる。竹にゆっくり取り組むのにはいい」と中臣さんはいう。
竹田の地に竹作家を呼びたいという首藤勝次竹田市長の強い要望により、生野徳三氏の推薦で2012年、中臣さんは大分県竹田市に移り住んだ。この地で古民家を借り、結婚をし、子どもを儲け、旧竹田中学校舎を活用した竹田総合学院の一角を工房として、国内外に向けて製作を続けている。竹林を借りたのも、いい竹林があったから。竹を育てて、伐採して、油抜きまでする竹作家はそう多くはいない。
"In the countryside, time passes by slowly. It's ideal for dealing with bamboo at a leisurely pace", says Nakatomi. Upon recommendation by Tokuzo Shono, Nakatomi moved to Oita prefecture's Taketa in 2012. The mayor of Taketa city, Katsuji Shuto, is enthusiastic about inviting bamboo artists to Taketa. There, he rented an old Japanese-style house, got married and had children. He took a section of Taketa Community Centre, housed in a former middle-school schoolhouse, and turned it into a studio where he continued to make pieces destined for both the domestic and international scene. As there were good bamboo forests in the area, he borrowed one. There are few bamboo craftsmen who cultivate bamboo, chop it down, and drain its oil, but he is one of them.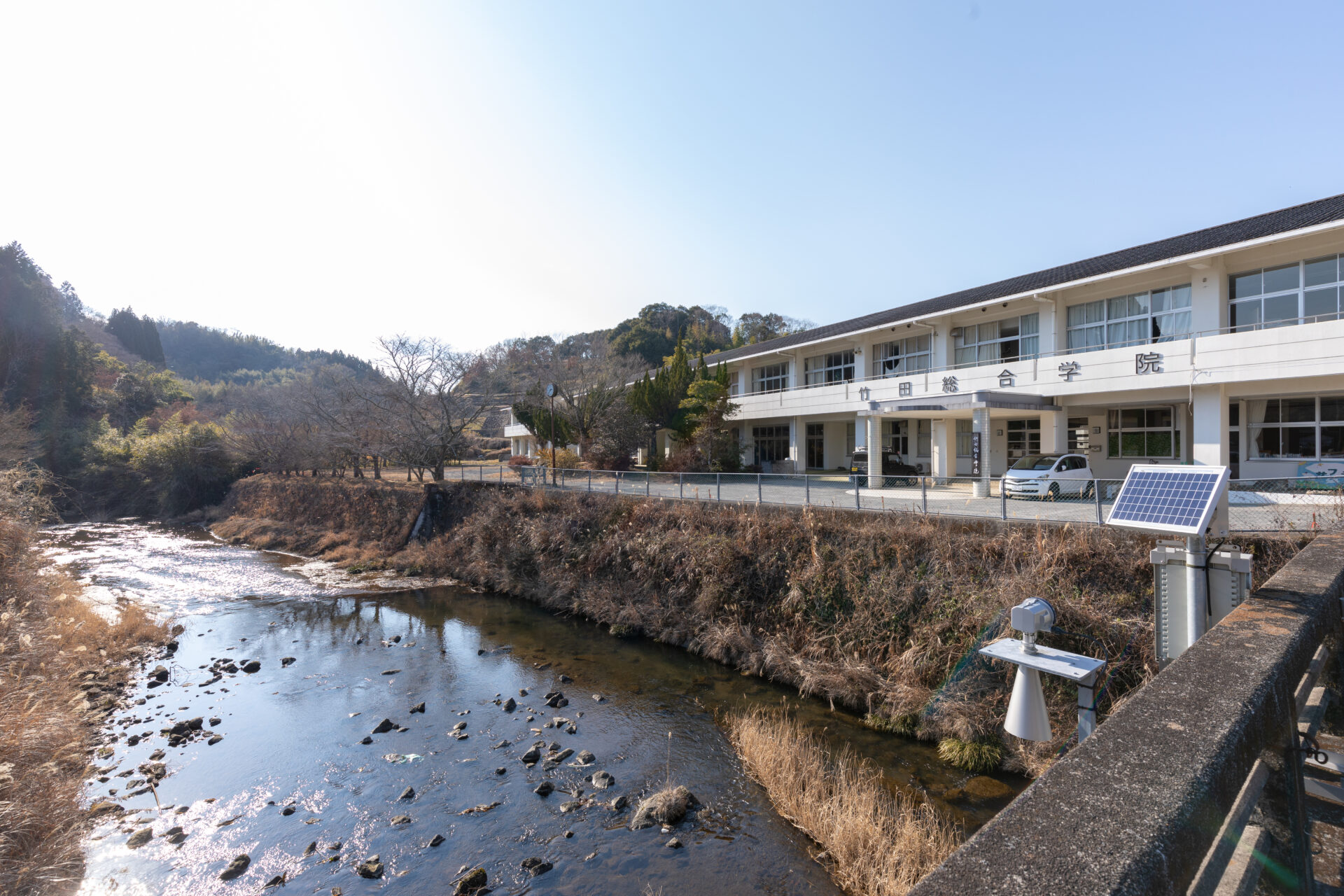 「時代的にそうせざるを得なくなっているんです。昔はいい竹が竹材屋さんに電話1本で運んでもらえたけど、竹材屋さん自体が減っているし後継者もいない。ここは水も風も空気もいい。いい真竹が育ちます」自然の流れだと言うように中臣さんは話す。
"These days, this is the only way to do it. In the past, you simply made one call to a bamboo supplier and they would deliver it to you, but these days such suppliers have decreased in number, and there are no successors. Here in Taketa, the water, the wind, and the air are clean. You can grow good bamboo", says Nakatomi, "it is a natural process".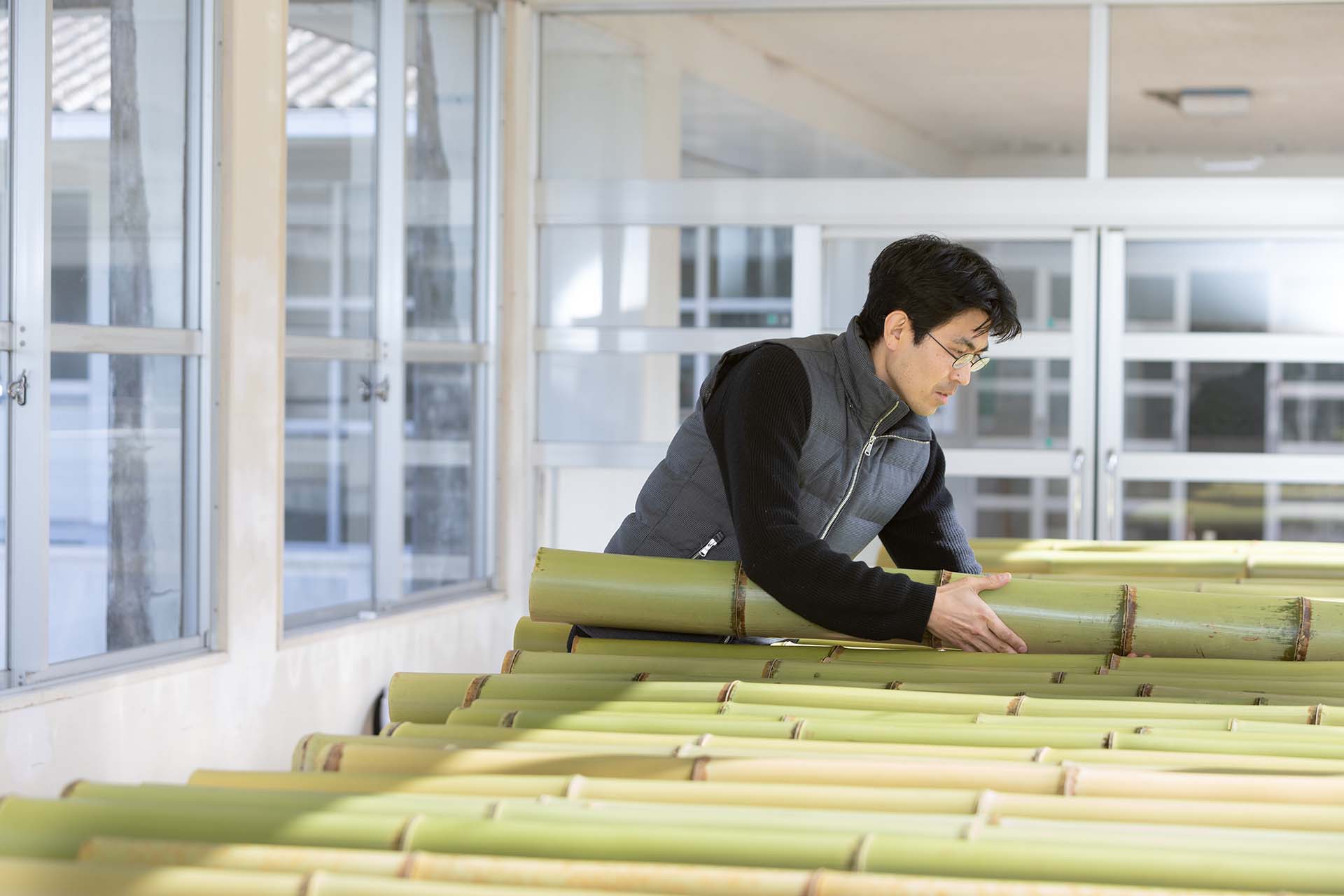 今後のことを尋ねると、「先のことはわからないけど…」と笑いながら、「いずれ、ここで工房を作りたいです」と答えた。豊かな竹田の地で、健やかな竹を育て、日々の生活を営みながら、やがて完成するだろう工房とともに、新たに創り出すものを思い描く。
I wonder where he is heading next: "Though I do not know the future, I know for sure that I want to make a workshop here", he replies with a smile. One can picture him here surrounded by the abundance of Taketa, cultivating bamboo, carrying out his daily life with a completed workshop and the novel pieces he dreams up.
「そんなに難しいことをしなくても、美しいものは作れると思っているんです。シンプルで基礎的な技術でもいろんなことができる。そぎ落としていって残るもの、そういうもので作品を作りたい」

静かな意志を持ったこの竹藝家は、近い将来に再び、未だ見たこともない竹の表現を、きっと世界に見せてくれるのだろう。
"Even if you do not use the most difficult techniques, I really believe you can create beautiful objects. With just the simplest, most basic techniques you can do a lot. I want to create objects that are pared down to their bare essence."

This craftsman with a quiet-soul will surely, in the near future, once more show the world bamboo pieces that are truly original.