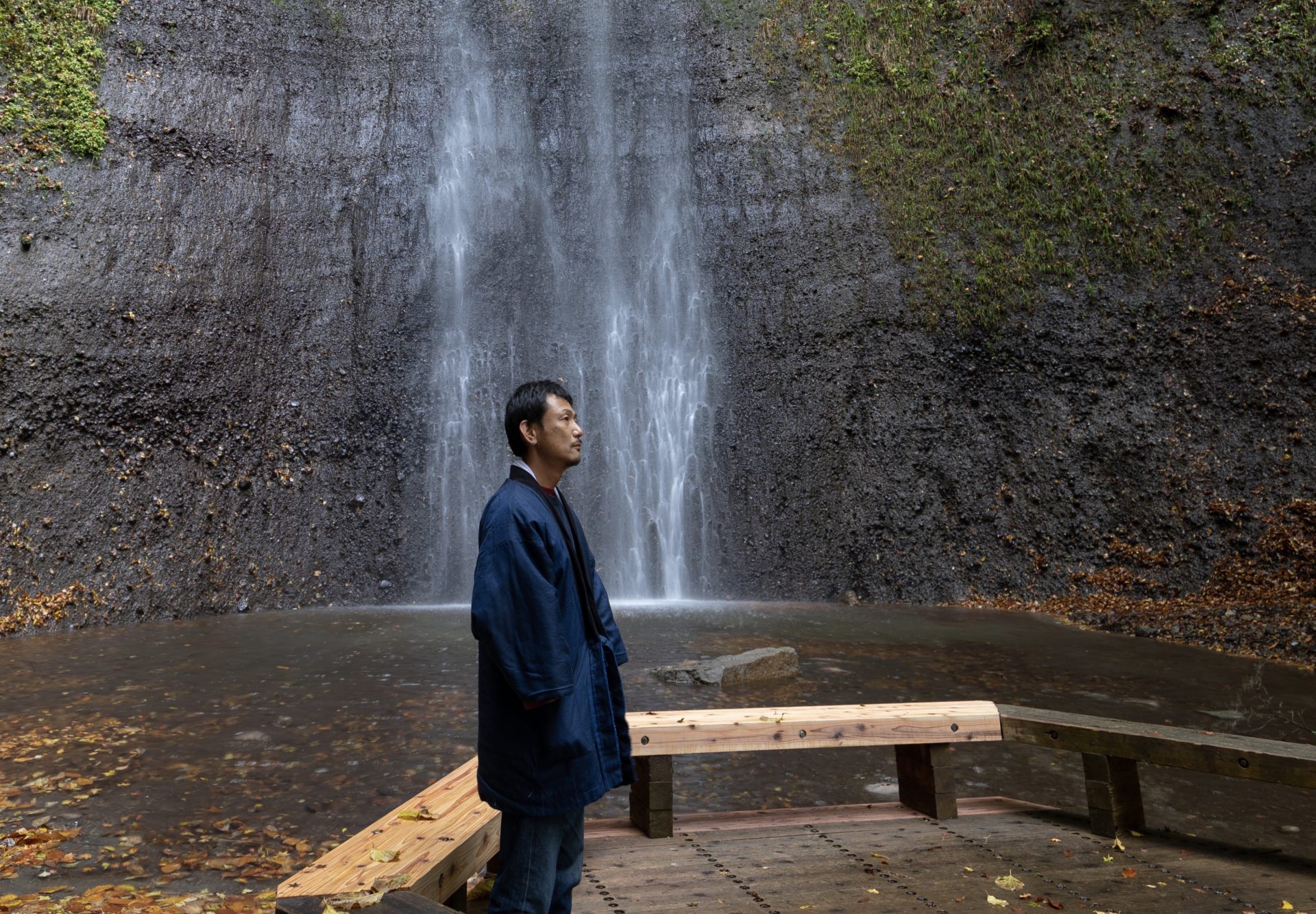 INTERVIEW
MAEDA RYOJI
前田 亮二
MAEDA RYOJI
自分の色を育て、作り、染め上げる
He develops his own colors to dye fabrics.
この在り方を伝えながら
All the while, conveying this way of being.
山里の開かれたキャンパスの中で
On an open campus enveloped by the mountains.
大分県の南西部に位置する竹田市。未だ城下町の面影を残し、作曲家、瀧廉太郎の「荒城の月」の舞台にもなった町としても知られている。それだけではない。ここには、湧き水、滝、澄んだ川、竹林、山並みや草原という豊かな自然に囲まれている。
Taketa city is found in the southwest of Oita prefecture. It's a place that retains its ancient castle town character and is famous for being the setting for Rentaro Taki's "The Moon over the Ruined Castle" composition. But that's not all. Taketa is surrounded by an abundance of nature including springs, waterfalls, crystal clear rivers, bamboo thickets, as well as mountain ranges and grassy plains.
そんな魅力に引き寄せられてか、町には近年、観光の目的だけではなく、ものづくりをする人が訪れ、集い、移り住むようになってきたという。この恵まれた環境は、アーティスト、クリエイターたちの創作意欲を刺激しているようだ。
In addition to those drawn to the city charms for sightseeing, there has recently been an increase in those visiting, gathering in and moving to the city to for reasons of craftmanship. It seems that this environment stimulates the urge to create in artists and creatives alike.
竹田市直入町の「大分県立芸術文化短期大学竹田キャンパス」もまた、創作活動の場として多くの若い学生たちが集っている。
In the Naoirimachi district of the city, many young students are gathering at the Taketa campus of Oita Prefectural College of Arts and Culture, using the area as a place to create.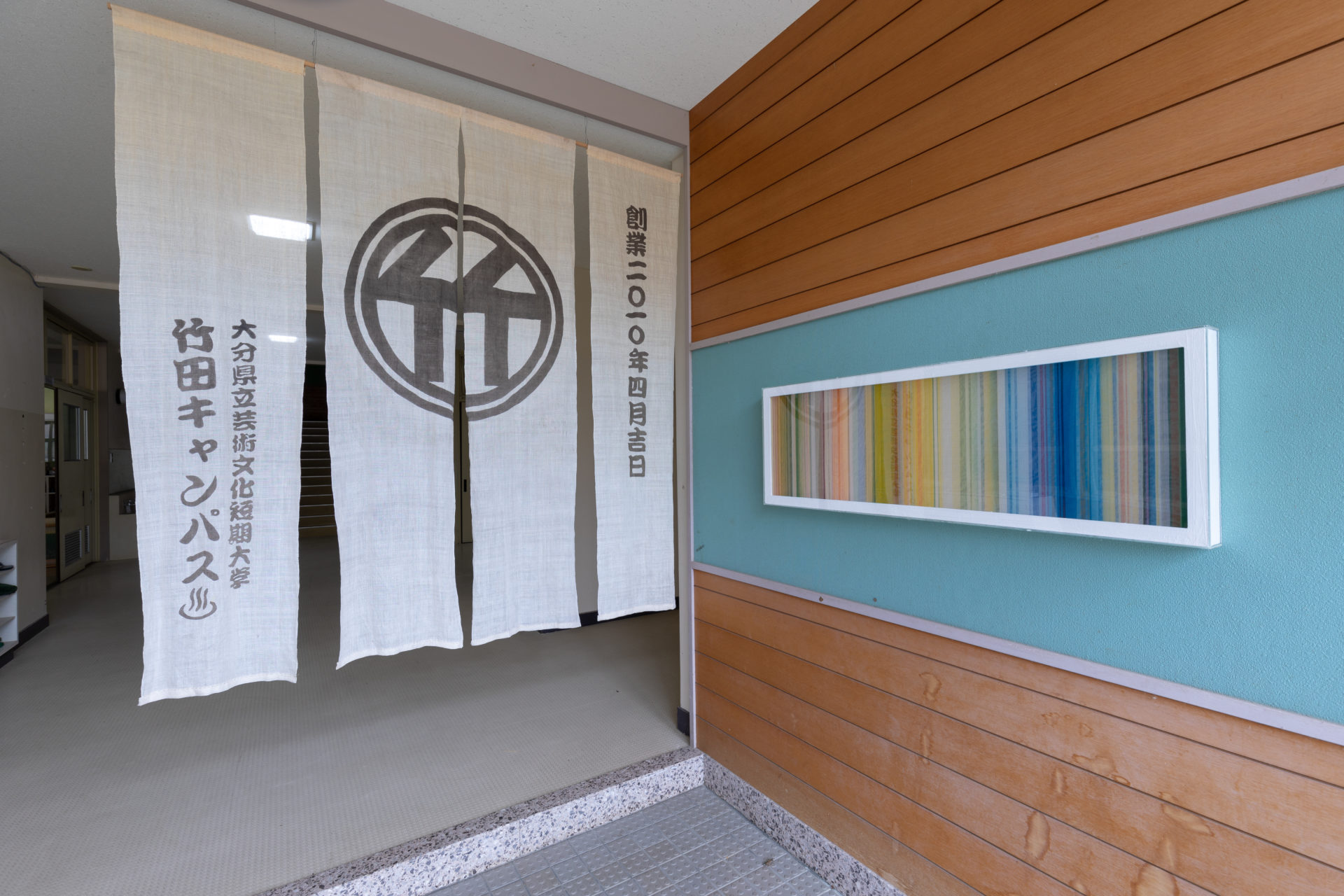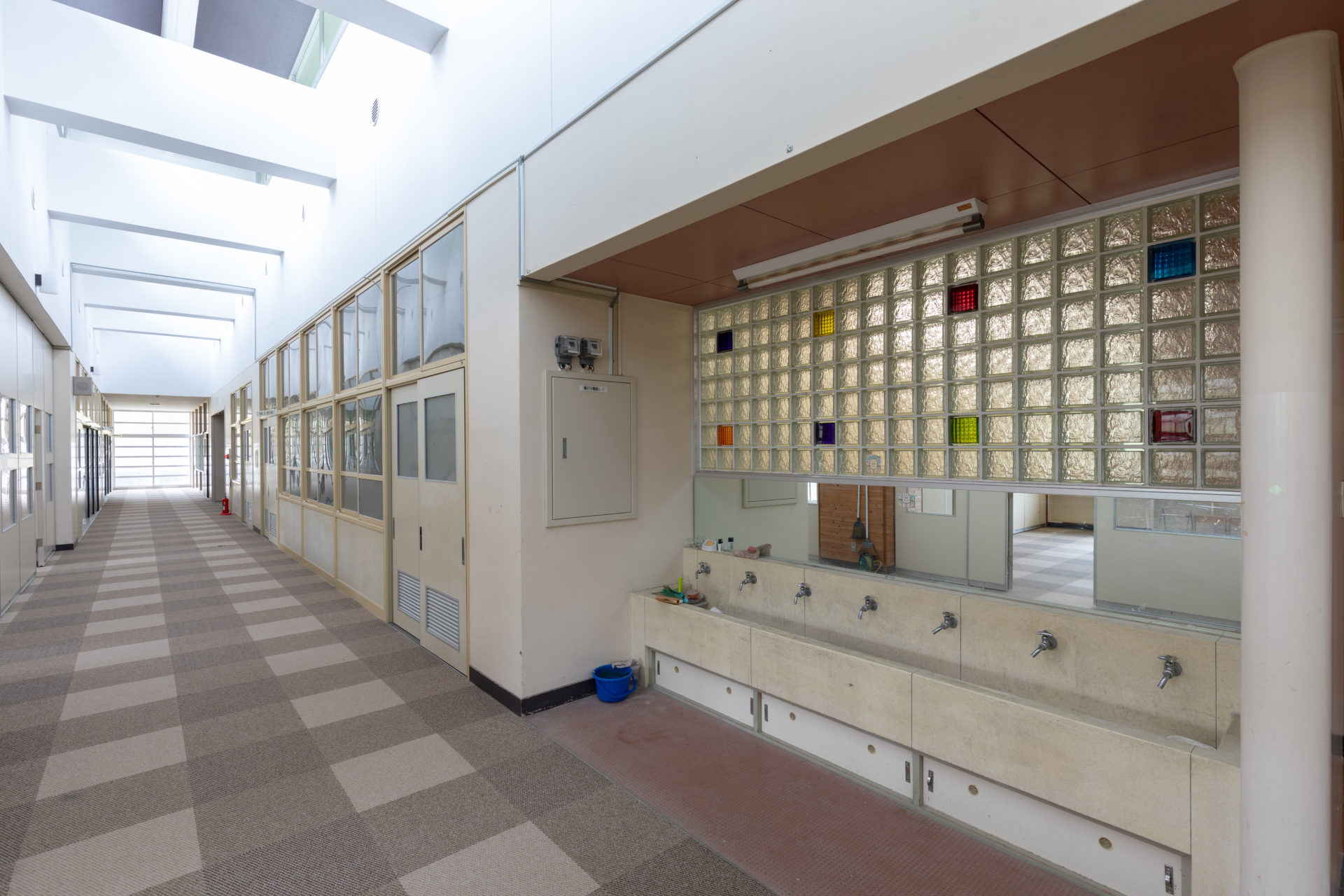 廃校となった下竹田小学校を活用した竹田キャンパスは、ものづくりを行う学生たちにとっては最適な創作の場であり、それだけでなく地域の人々から、また、初めて訪れる人にも、気兼ねなく足を踏み入れられる開かれた校舎となっている。ここに開校時の2010年から滞在し、管理から学生への指導、一般の人を対象にワークショップなどの活動を行っている前田亮二さんは、芸術短期大学の講師であり、染色作家だ。
Students feel that Taketa campus - which makes use of the former Simotaketa elementary school site - is the perfect place to create their pieces. It is also appreciated by local people and first-time visitors alike, as it as a welcoming place they can step inside without any trepidation. Maeda is a lecturer and an artist of dye who has, since the building opening in 2010, sojourned here, managed the space, and assisted students.
体の一部のように馴染んだ紺色のはんてんに、白い手ぬぐいを首から下げて、気さくな笑い顔で校舎の中から「どうぞー」と迎えてくれた前田亮二さんを一目見て、このあまりにも自由で開放的な空気を作り上げたのは、自身が発するエネルギーそのものであることに気づく。
Maeda, who wears a blue hanten jacket that seems to be an extension of his body, along with a white scarf around his neck, comes out and says, "Please come in", with a smile and invites us inside. With just one glance, one realizes that the free and open atmosphere of the space is the result of him releasing his personal energy.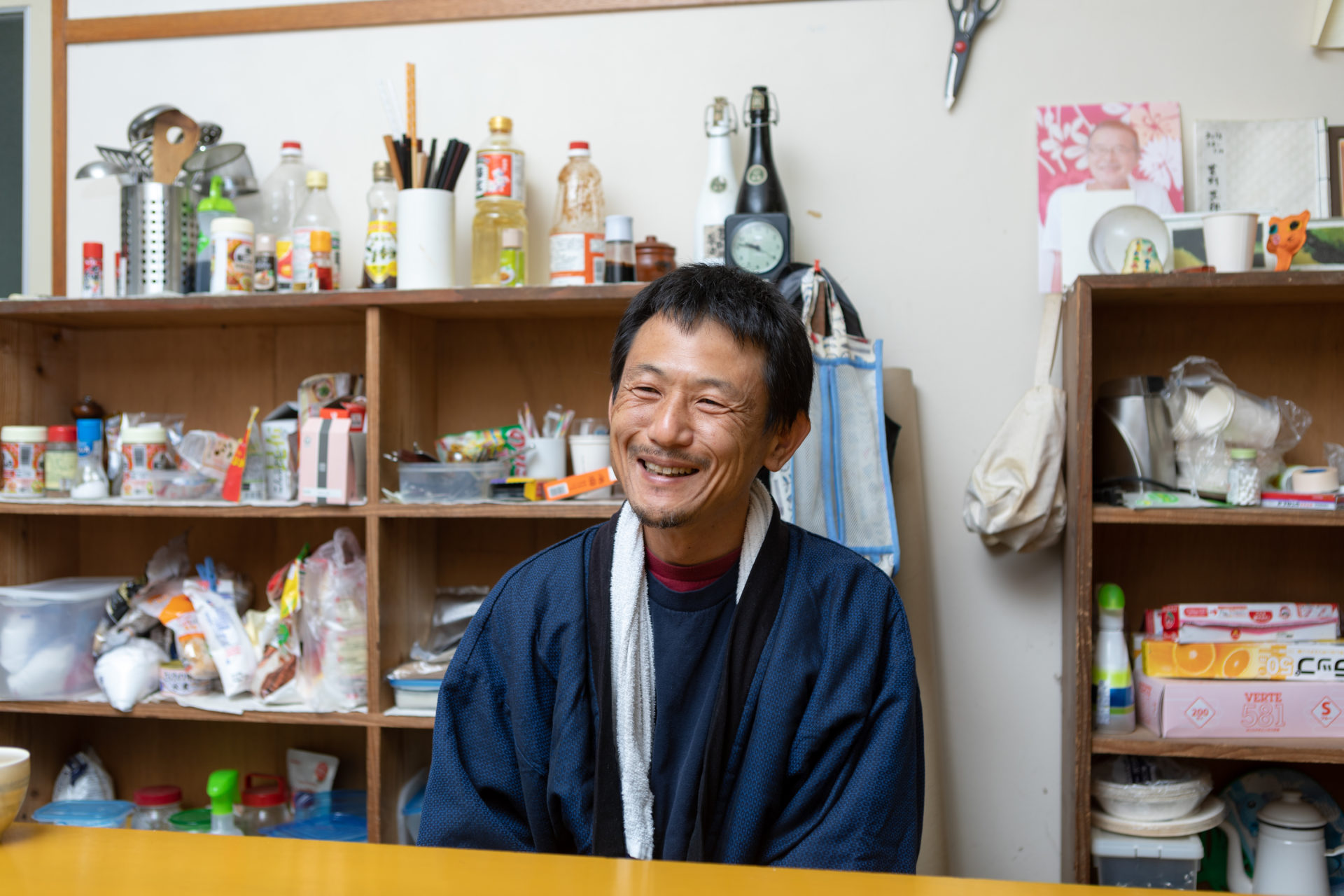 共に作りながら可能性を育む場
A place where you create things together while fostering possibilities.
工房となる校舎内には、前田さんの染色、学生たちの陶芸、彫刻、絵画などの創作現場、作品倉庫の他に、キッチン、宿泊所、なぜか廊下にはキャンプ用のテントまで張られている。そんな雑然とした空間に交じって、無造作に置かれた前田さんの作品に思わず言葉を失ってしまう。
Inside this building, which functions as a workshop, you will find not only Maeda's dyed pieces, ceramics, sculptures, and paintings made by students, but also a storeroom for the works, a kitchen, and lodgings, as well as – for some curious reason – a camping tent set up in the hallway. Amidst all this disorder, I find a casually placed piece of Maeda's work and I am lost for words.
木枠の中に展開するのは、流れるようにやさしい色のグラデーション。隣の木枠には、幾重にも色、形を重ねた幾何学模様で構成されたロボットの画。これらの作品は染色という概念をはるかに超え、染色作家という勝手なイメージも軽くくつがえってしまう。
Being developed inside a wooden frame is a gradation of colour that flows gently. Next to this is another wooden frame containing a geometrical pattern that has been built up through repeated dyeing and shaping to form a picture of a robot. These pieces exceed the notion of dyeing dramatically and overturns our previously held conception of an artist who dyes fabrics.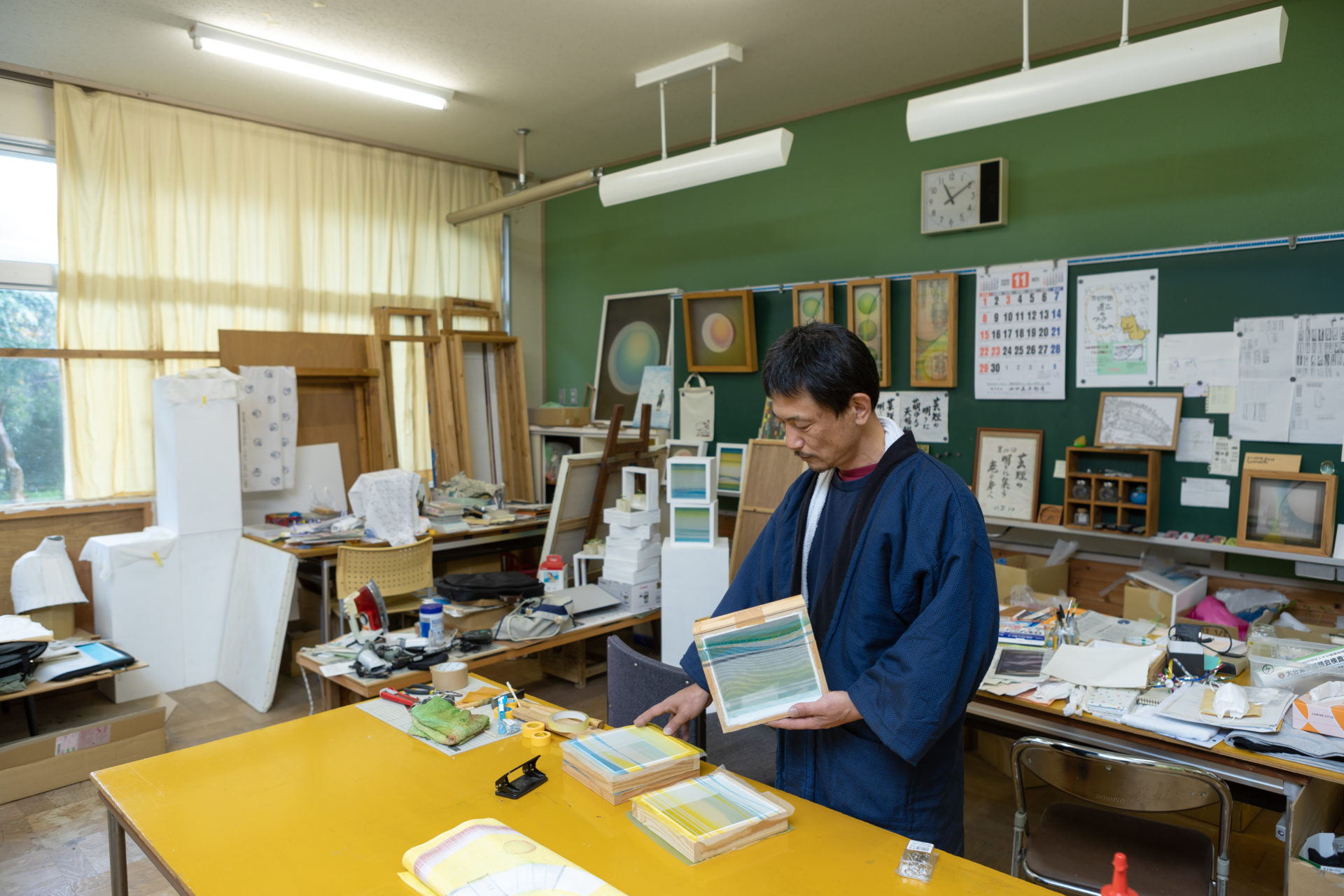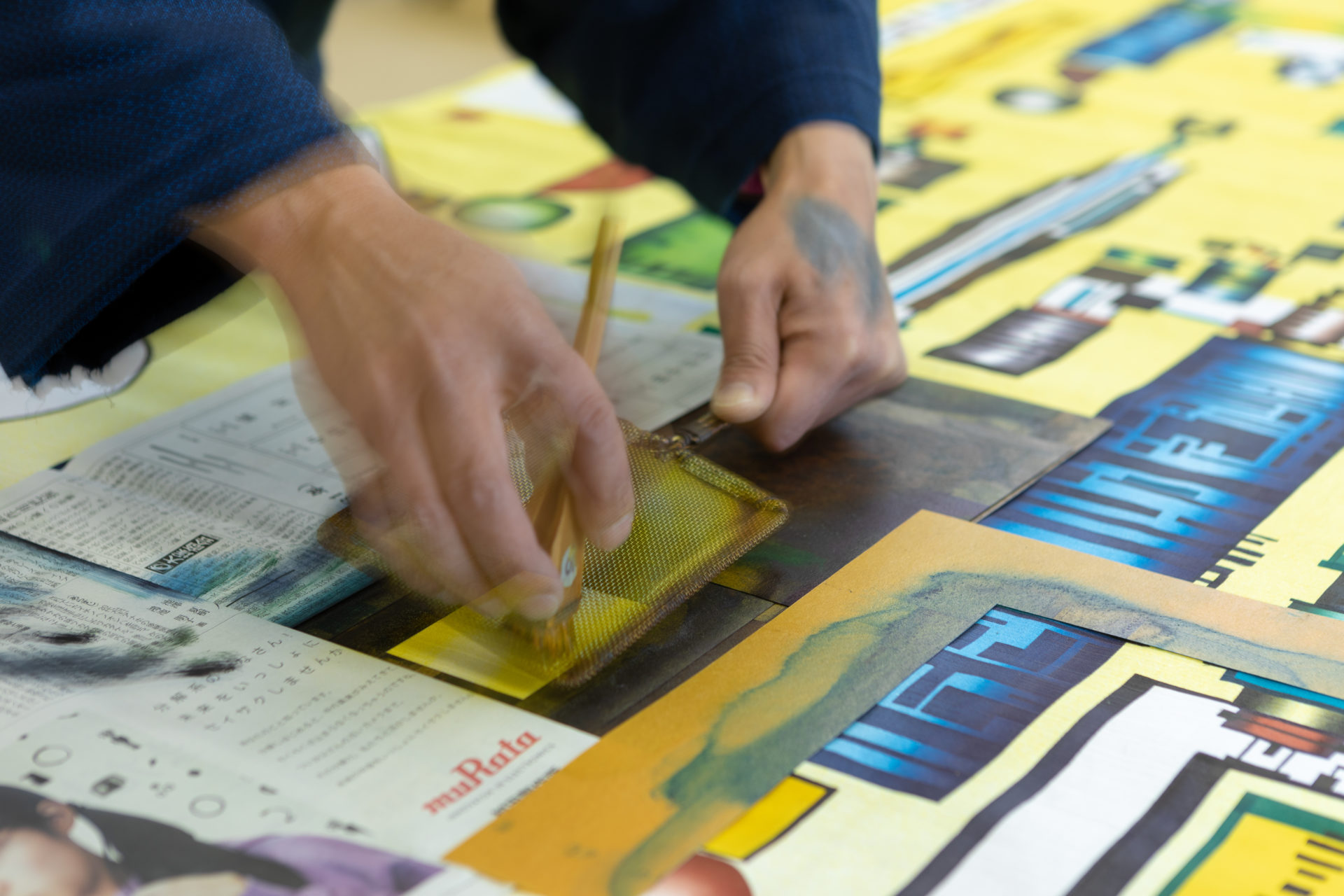 目の前ではんてんを着てシャイな笑い顔を見せる作家の描く世界は、きっとこの木枠の中には納まらない。そんな無限の広がりや奥深さをこの作品にも、工房にも感じてしまう。
This artist, who stands in front of me in a hanten jacket and laughs shyly, is able to create a world that will not be satisfied to remain within these wooden frames. I feel an infinite expanse and profundity in both this work and his workshop.
教育は押し付けるものではなく、共に遊び、作りながら、可能性を伸ばし、表現の幅を広げてゆくものであってほしい。そんな感性を前田さんは学生時代に培ってきた。
Education is not an act of pushing people, but rather it is about experimenting while playing and making things together, exploring possibilities and extending one's range of expression. Maeda cultivated this sort of sensibility in his student days.
美大入学で人生の師に出会い、染色に出会う
He met a mentor at an art college and encountered dyeing.
愛媛県に生まれ育った前田さんは、父親が家具屋を営んでいたことも影響しているのか、子どもの頃から図工やものづくりが好きだったという。高校を卒業した時も、"ものづくり"をしたいという気持ちは変わらず、「最初は人や社会に役に立つものを作っていきたいと土木・建築系専門学校を出て、仕事も公共事業などに携わっていたんです。だけどだんだんと必要のないものを作ってみたくなって…仕事を辞めて、それから芸術短期大学を受けたんです」
Maeda's father ran his own furniture shop, which likely influenced Maeda, as from a young age he developed a liking for arts and crafts.

His desire to be a craftsman was unchanged upon graduation from high school and he initially wanted to make things with practical use. He went to a civil engineering & construction college and then found employment in the industry. "However, my desire to make things without any practical use grew and grew so I quit my job to go to a fine art college", Maeda says.
必要のないものを作りたくなったのは、「その方がおもしろそうだったから」と笑う。そこに理由があるわけではなく、ただそんな想いが湧いてきたことにいもなく前田さんは向かう。
The reason for wanting to make objects without any practical use? "That's what looked more interesting!", says Maeda with a laugh. There was no deep reason but the feeling welled up inside him and he decided to pursue it.
そうして入った大分県立芸術文化短期大学で、これからの人生を左右する決め手となる染色と、まさに「おもしろそうなこと」を体現して生きている師、吉村正郎氏に出会う。常に何かを作り、常におもしろそうな視点を持ち、日常を楽しむ師の周りには、前田さんを始めとした教え子たちが集ってくる。

And then, at Oita Prefectural College of Arts and Culture, he discovered dyeing, which became a turning point in his life, and met Masao Yoshimura, his mentor-to-be, who lives to embody "interesting things" in novel pieces. Disciples, of which Maeda was the first, gravitated towards this man who was constantly at work, constantly holding interesting points of view, and who enjoyed daily life to its fullest.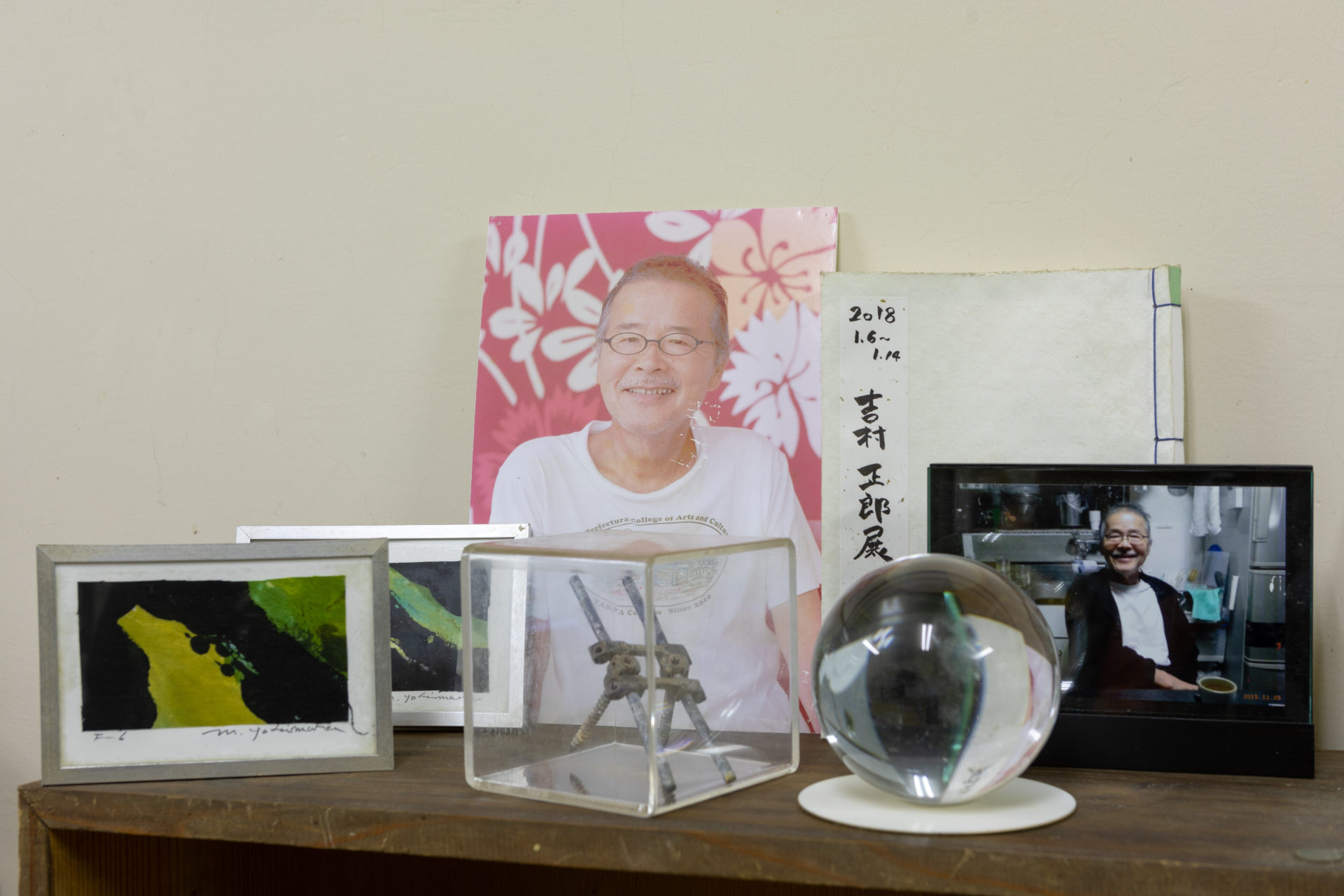 師の元で、ものづくりの好きな連中が飲みながら、騒ぎながら、笑いながら、ただ楽しむ。そんな遊びの時間の中から生まれてくる感性を前田さんは培っていた。「つくることは生きること」と言わんばかり、死ぬまで制作を続けた師から、学び、受け継いだ大切なものを、今、前田さんは師として生徒たちへつないでいる。
At the feet of this mentor, these troupes of craft lovers drank, made a commotion, and laughed just to enjoy themselves. Maeda's sensibility was cultivated amidst such a scene of playing. "To create is to live", he was often told by his old mentor, who created until the day he died. Maeda learned from him, and inherited his way of being, and is now a similar sort of mentor to his own students, passing along what he has learnt.
感性さえ持っていれば生きていける
Once you have your sensibility you can go on living.
前田さんは教える子どもたちに、あえて型にはめた指導をしない。基本を教えるだけで、あとは可能性に任せ、個性というそれぞれの色を自由に描かせる。自分たちがどんな色を持っているのか、それに気づくのは、奥に潜んだ自らの感性を見つけるしかない。それには小さな子どものように、ただおもしろがるだけでいい、何にもならなくてもいい。とんでもない発想でも、ジャンルなんか飛び越えても、自分に内から湧いてきたものに正直に向かって作りたいものを作るだけで、それは唯一無二の作品となる。
そんな遊びのような制作過程で、生徒たちに自分の色を見つけてほしいと思う。
Maeda does not use teaching methods that force his students into a straitjacket. While he only teaches the basics, he leaves the rest to possibility, and lets his students create their own colors that are individual to them. To find those colors, they have no option but to explore the sensibilities that are hidden deep within them.
Just like children pleasing themselves with their scribbles, it does not matter if nothing becomes of the work. Even crazy concepts or genre-bending are acceptable, and by simply following their inner feelings they can create unique pieces.
Through this kind of experimental process of creation, he wishes his students to find their own colors.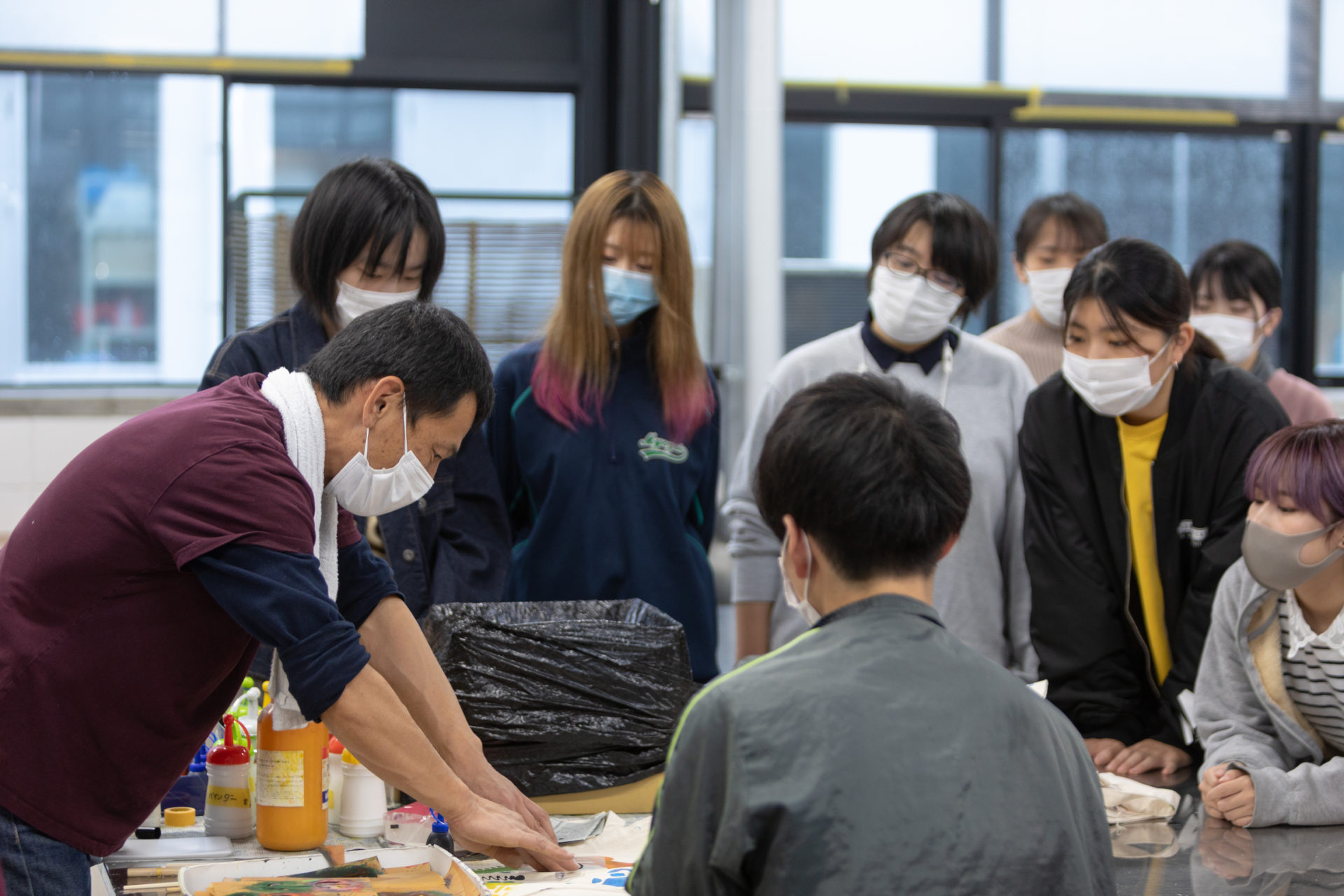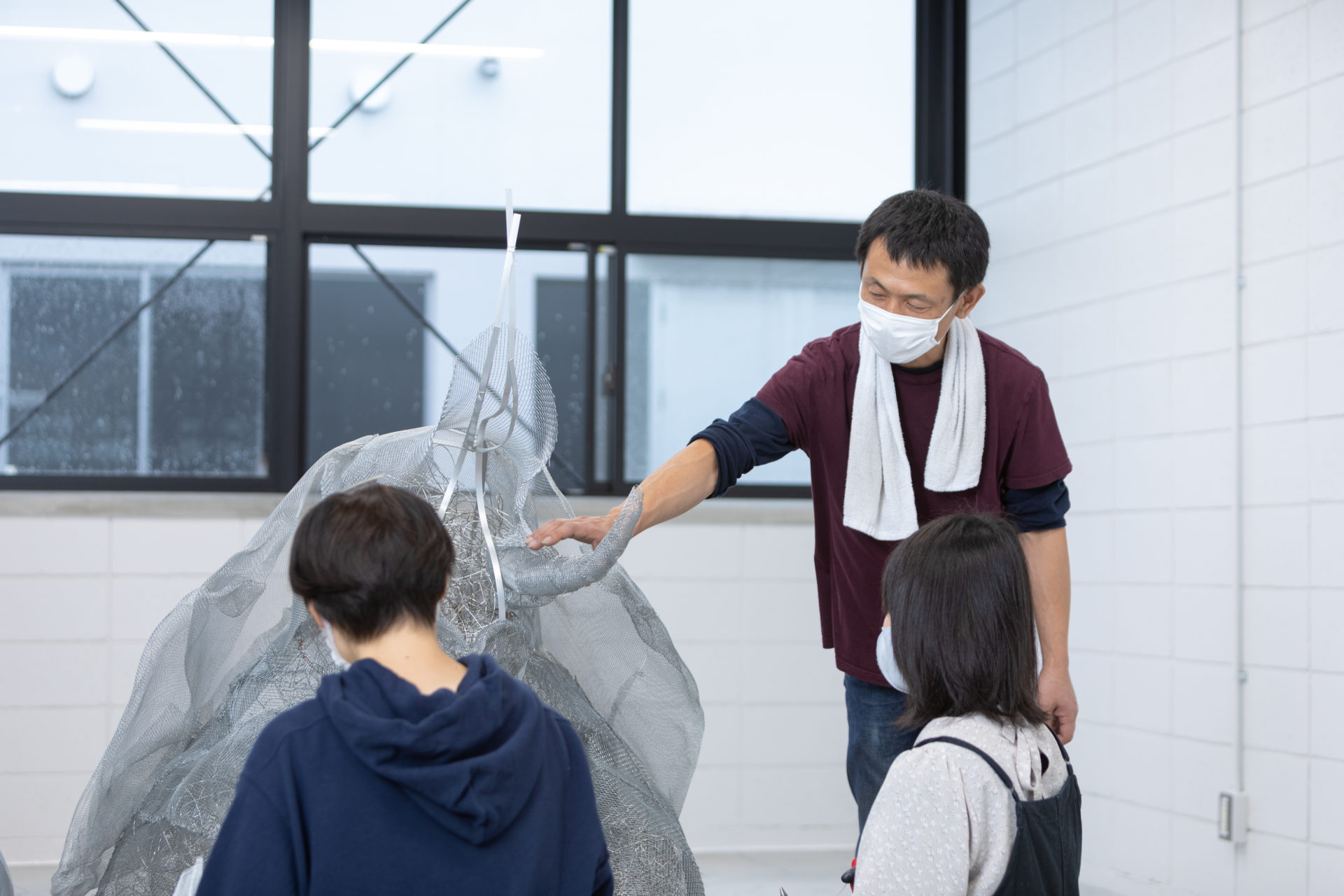 「卒業して制作を続けなくても、普通のサラリーマン、主婦になってもいいんです。いつかフッと思い出して何かつくりたいという気持ちが湧いてくるかもしれないし、自分の子どもたちにそんな想いを伝えるかもしれない。一度触れた感性というものは無くならないと思うんです」

祖父母が住む田舎で遊んだ時の川の水や、空の色、新緑、海の深さ、好きな幾何学模様、人の形に見えるモノたち、心惹かれる感性で染めた自分色を、何層にも重ねて制作を続ける前田さんの在り方が、それを確かに示している。
"I have no issue with them becoming a salaryman or a housewife upon graduation and discontinuing their art. One day, they may suddenly remember their art and come back to it, or perhaps they will transmit their artistry to their children. The sensibility they at one point touched won't be forgotten."

From his grandparents in the countryside and the nearby river water, the color of the sky, and the fresh green leaves, to the depth of the sea, the geometrical patterns he likes, and the objects that look like human beings, he will continue to dye fabrics and create in a way guided by his innate sense of fascination.
Maeda's way of being shows that once you've acquired these sensibilities they won't be forgotten.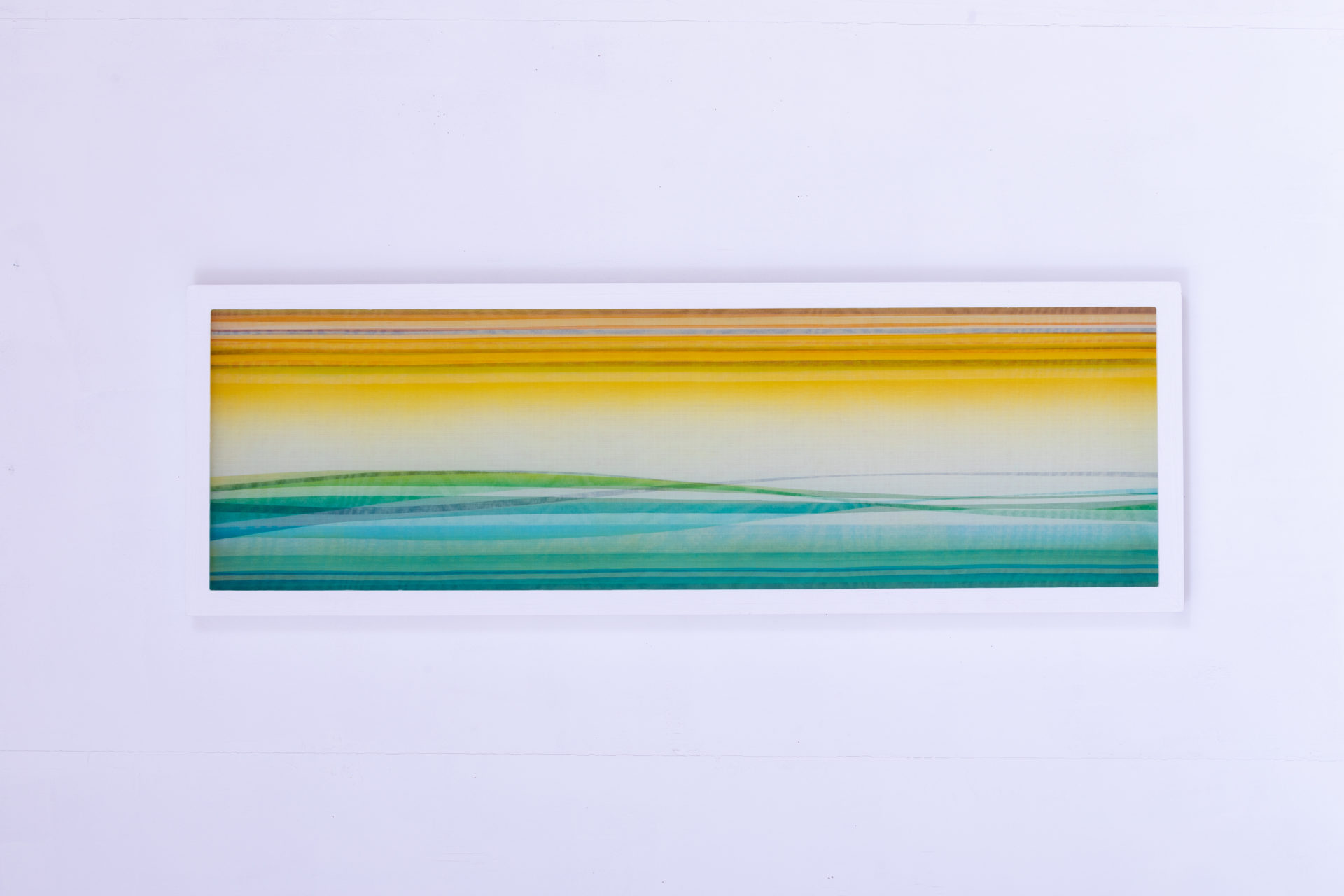 工房の片隅には、野菜に顔を付けた小さなオブジェの陶器が並ぶ。必要になくなった廃材を樹脂に固めた作品もあちらこちらに。生きることに役に立たなさそう無駄なものが、生活の中でやわらかな光と潤いを与えてくれる。

In a corner of the workshop, a ceramic selection of vegetables with faces on them are lined up. Pieces made from scrap wood that has been encased in resin are also found here and there. Objects that have no practical use in human progress shine a light on and add richness to our lives.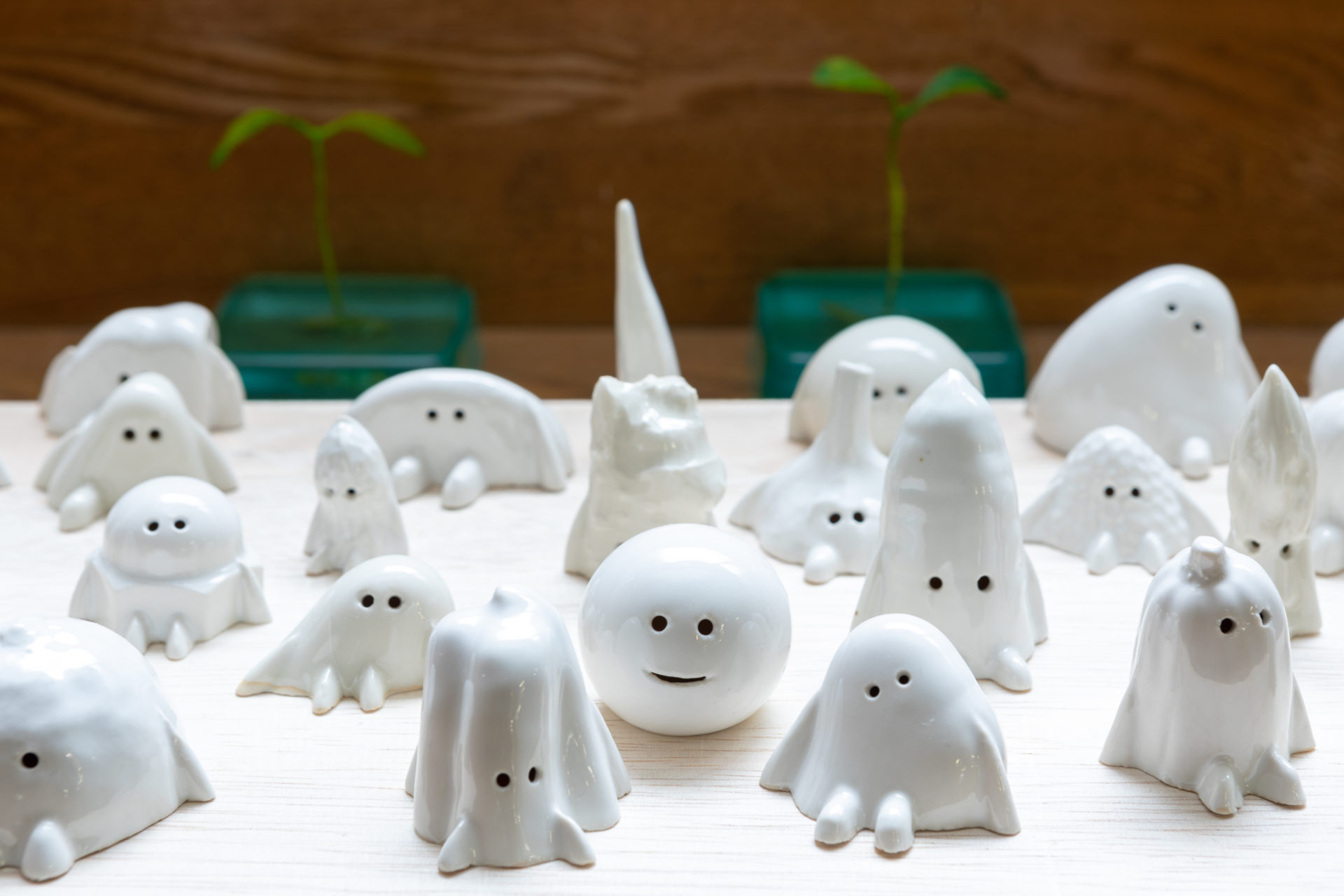 「必要のないものを作りたい」と選んだ道は、実は生きていく上で最も大きな支えとなっていることを、山里のキャンパスで静かに伝えている。

A man travelled a certain path with a voice that said, "I want to make things with no practical use". At this mountain village campus, he now gently conveys his conviction that these objects are actually his greatest supporters in life.